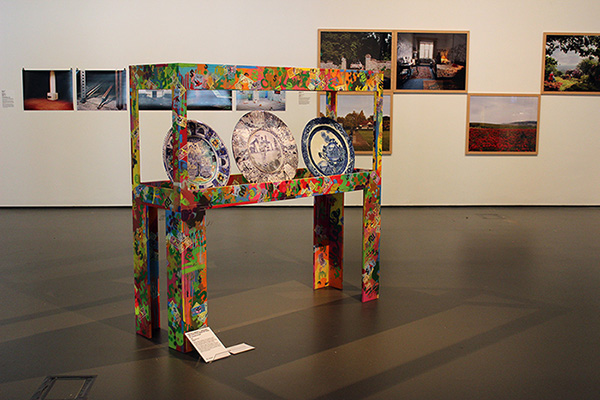 We are delighted to be collaborating with street artists Shuby and DELETE and exhibiting the first experimental sculpture installation at the Towner this summer. The first realisation of work from the series Cash, Clash & Climate
with support from the Arts Council of England.
Further information: www.voidgallery.com/towner.htm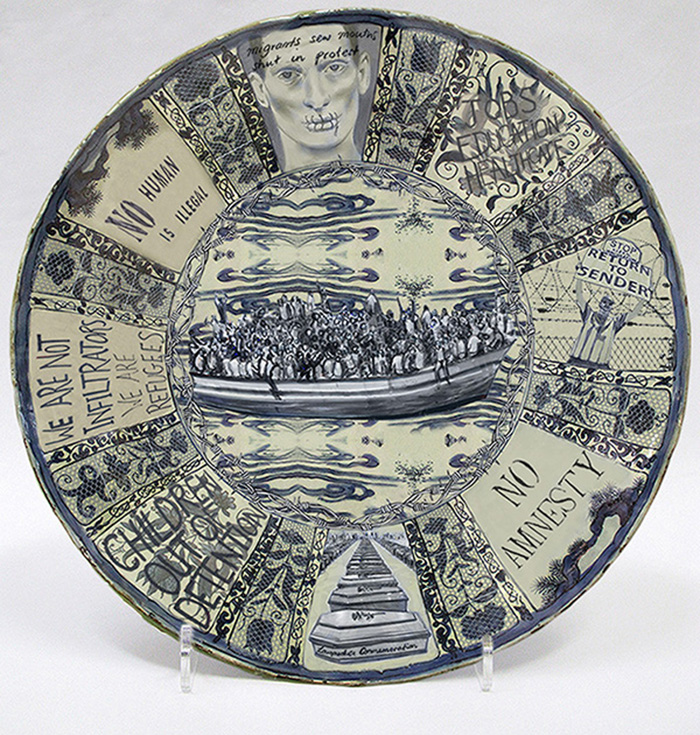 Border Control
2015 52cm x 52cm x 5cm
sculpture: wire, paper-mache and collaged archival photo
Migrants desperate to leave their troubled countries to find a better life are increasingly exploited by traffickers. In 2013 a boat crammed with people left Libya and sank off the coast of Lampedusa, Italy killing over 360 men, women and children reportedly from Palestine and Syria. This tragic event highlighted the incredible risks people are taking and increased frequency of such acts.2015 saw one of the worst human losses of migrants drowning in the Mediterranean. The subject of migration is a hot topic in many areas of the world: Australia with its' controversial offshore detention centres, the ongoing problems in Calais, France with migrants trying to get to England, and the recent amnesty granted by Obama to millions of illegal immigrants. Border Control offers another subject which strongly divides opinions.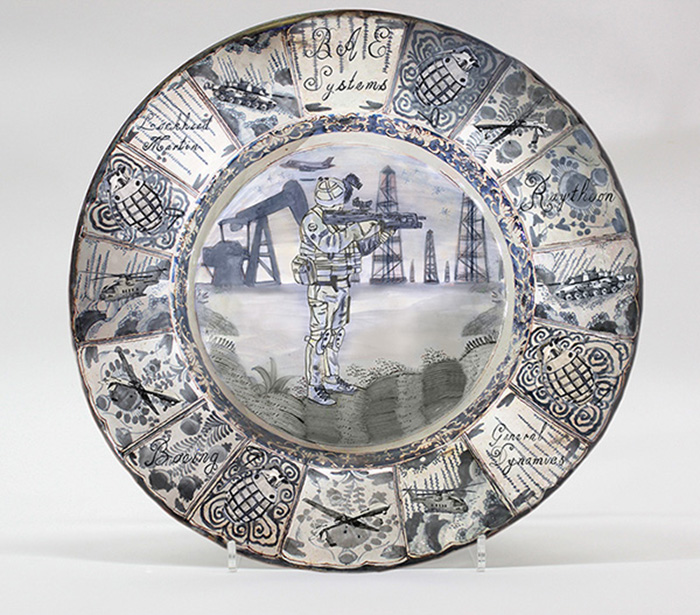 War Bucks
2014 50cm x 50cm x 5cm
sculpture: wire, paper-mache and collaged archival photo

The plates are hand-made in paper mache and are exhibited on furniture-like structures proportionately similar to the Welsh dresser (historically used for displaying plates). A local street artist will be invited to add his or her work to the surface of the 'furniture' in response to each theme. The first collaboration will be with UK street artists Shuby and DELETE. The idea is to keep adding to the surface of the stands creating a layered effect similar to graffiti experienced on the street. Multiple visits to the Victoria & Albert and British Museums, London; Mares Museum Barcelona the Metropolitan Museum, New York; the Archaeological Museum, the Turkish and Islamic Art Museum, Istanbul; and the Asian Museum of Civilization in Singapore inform this work. The narratives of each original plate are altered to highlight a variety of ideas tied to each theme.
Cash: For this collection the works explore bailouts, credit culture, housing bubbles, war as big business, the commodification of food staples and the almost religious status that money has reached in our times.
Clash: Social unrest from Istanbul to Athens, the use of social media to organize protests, fracking, the charged debate concerning gun control and gun rights in the US and even the London riots of 2011 feature. The plate sculptures depict these significant topics.
Climate: This theme loosely covers environmental topics such as chronic pollution as a heavy cost for economic power in China, melting ice caps, the opposing views of climate change, the legacy of radiation from Japans nuclear disaster and the untimely death of a sperm whale in Spain from ingesting 17kg of plastics generated for British and European supermarkets.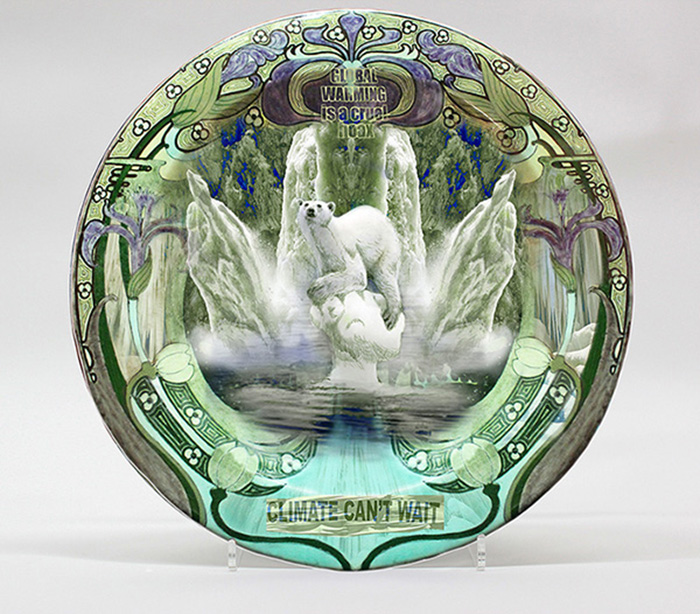 Polarized
2014 48cm x 48cm x 5cm
sculpture: wire, paper-mache, plaster and archival photo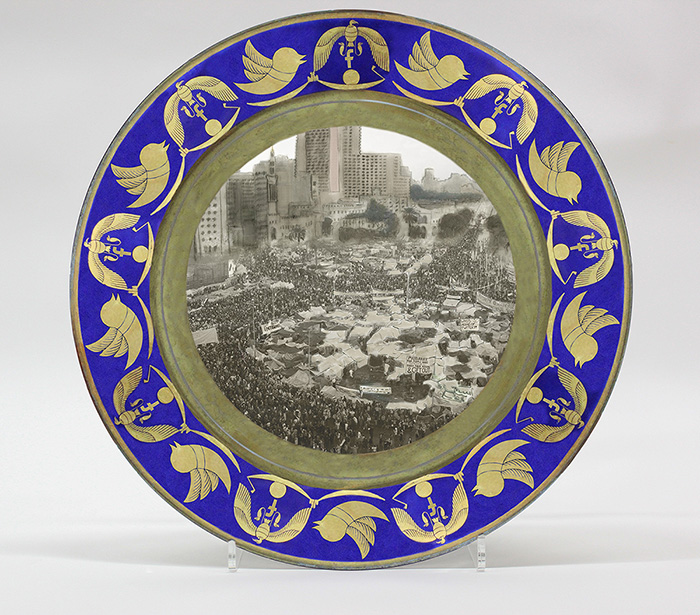 Connected
2014 50cm x 50cm x 5cm
sculpture: wire, paper-mache and archival photo collage


Bubble Trouble
2014 50cm x 50cm x 5cm
sculpture: wire, paper-mache, plaster and archival photo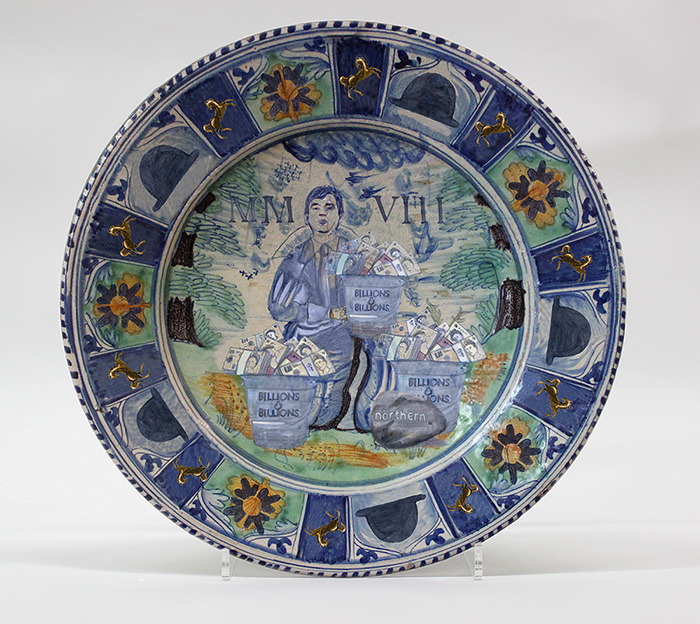 Rescue
2014 48cm x 48cm x 5cm
sculpture: wire, paper-mache and archival photo collage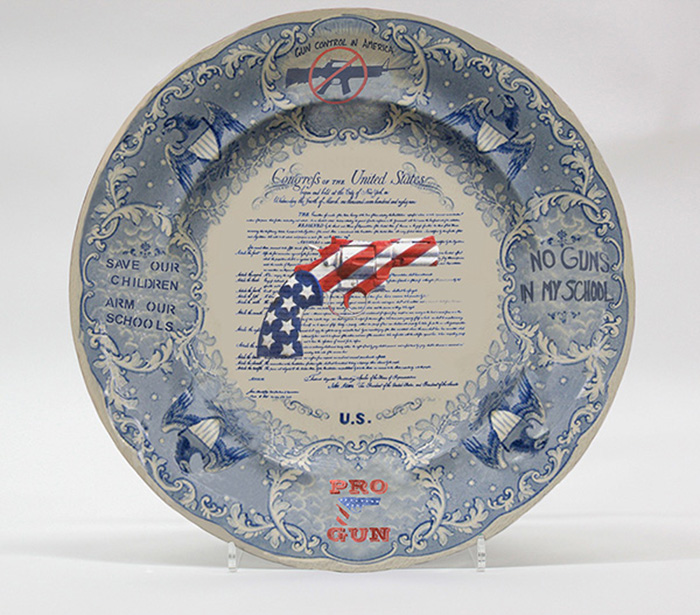 Control vs. Rights
2014 38cm x 38cm x 5cm
sculpture: wire, paper-mache and collaged archival photo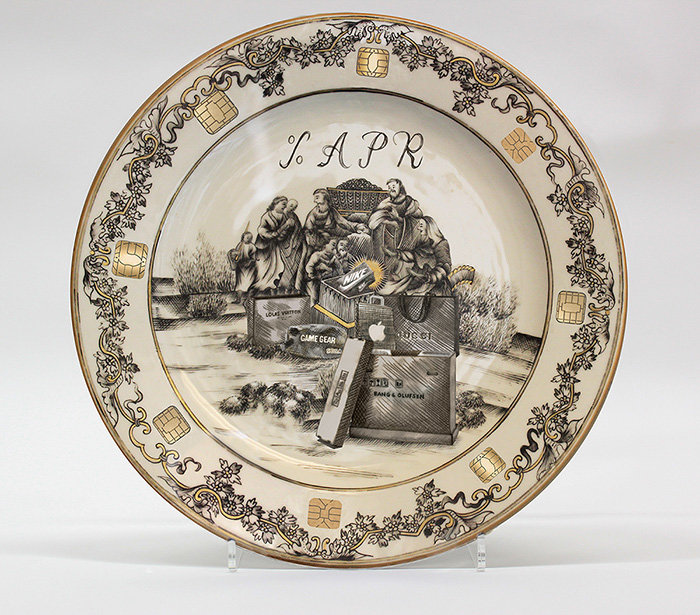 Consumed
2014 49cm x 49cm x 5cm
sculpture: wire, paper-mache and archival photo collage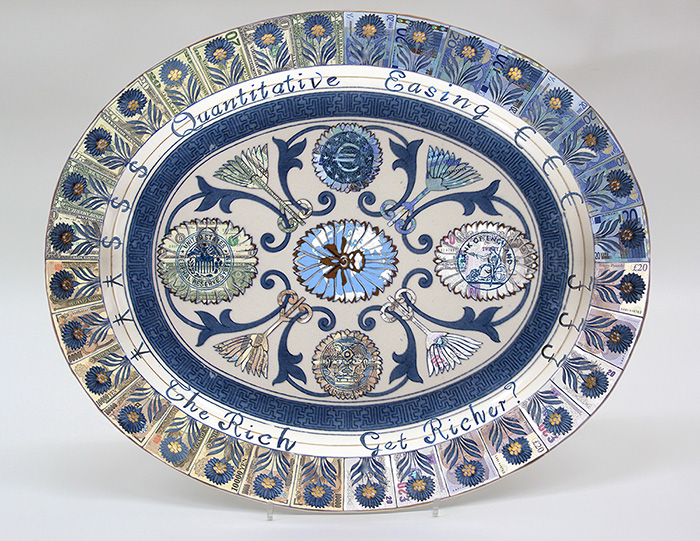 Stimulus
2014 45cm x 55cm x 5cm
sculpture: wire, paper-mache and collaged archival photo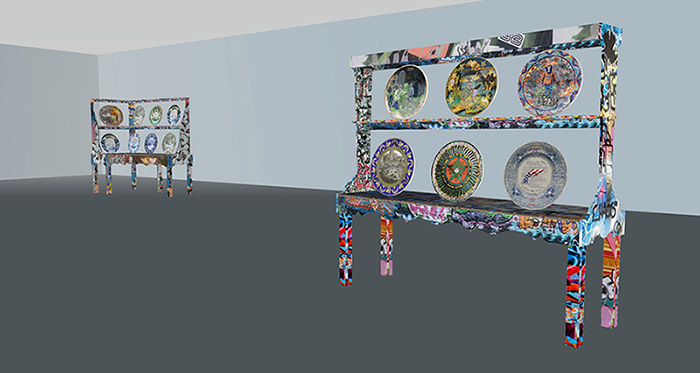 'For me, the most spectacular moments of thought were created by a collection of plates.
A nostalgic medium usually created in ceramics, but in this case recreated in paper­mache
in the hands of Maslen and Mehra, they are transformed into a sinister community
reflective tool addressing the political, cultural and moral decisions we make and
how they may be addressed as historical artefacts or moments in time. Almost mocking
the way in which we now live compared to our past, they highlight our obsession with
money, power and possessions.'
Ruth Page The Upcoming