CASH, CLASH & CLIMATE

Supported by



The sculptures in Maslen & Mehras' current series have been based on ceramic plates researched in museums around the world. These include the Victoria & Albert and British Museums, London; Hastings Museum, UK; Mares Museum, Barcelona; the Metropolitan Museum, New York; the Archaeological Museum and the Turkish and Islamic Art Museum, Istanbul; the Asian Museum of Civilization in Singapore and the Museo Internazionale delle Ceramiche in Faenza, Italy. Maslen & Mehra fashion the sculptures from humble materials: wire and papier-mâché, completed with a decoupage technique of small tiles of archival prints. The narrative of each original plate is altered to highlight a variety of ideas tied to three themes: Cash, Clash and Climate.

These collections of sculptures individually pose questions about political, social and economic structures but together they ask how they, in turn, relate to social unrest and environmental issues. Some themes may be familiar to the viewer such as the piece, Polarized, which confronts us with opposing slogans: 'Global warming is a cruel hoax' and 'Climate can't wait'. Others are less obvious, such as the piece Article 475 which encourages the viewer to look further if they don't understand the reference. Faith in Fiat questions the shift from commodity money to a fiat system which is effectively a promise. Is it sustainable to have such blind faith? The largest piece in the collection, Natural Capital references a system by which natural assets (water, geology, biodiversity, soil, air) and ecosystem services (pollination by insects, recreation, natural flood defences, etc.) are given a financial value. Could this alternate economic system be the key? Maslen & Mehra have created the framework Cash, Clash and Climate in order to ponder questions about the complexities of living today and they invite viewers to follow their train of thought.

Cash, Clash & Climate by Maslen & Mehra in collaboration with street artists Shuby and Delete will be on view at the Hastings Museum from 1st September - 12th November 2017.

Also currently in progress: Faith In Fiat installation. More details: Faith In Fiat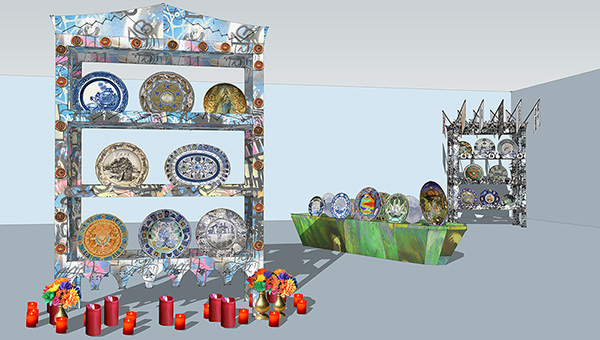 The Cash series draws attention to bank bailouts; credit culture; The 1% and the Occupy Movement; housing bubbles; tampon tax; quantitative easing; war as big business; the commodification of food staples; and the almost religious status that money has reached in our times.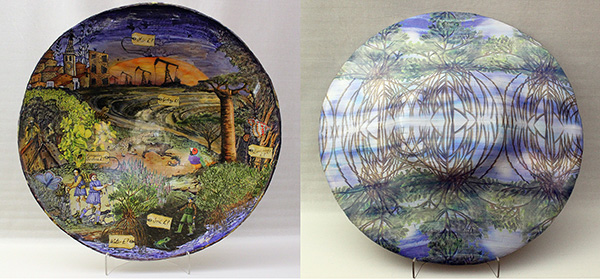 Natural Capital
78cm x 78cm x 5cm
sculpture: wire, paper-mache, and archival photo decoupage
Maslen & Mehra have responded to a piece in the Hastings Museum Collection and created a new sculpture titled Natural Capital. The 16th century, Maiolica dish by Federigo of Modena is thought to be one of the largest examples of this type of ceramics. It depicts several hunting scenes. Maslen & Mehra take this idea of nature as a resource a step further. They have altered the narrative to suggest a system by which natural assets (water, geology, biodiversity, soil, air) and ecosystem services (pollination by insects, recreation, natural flood defences etc..) are given a financial value.


The Clash series embodies social unrest from London to Athens; Article 475; the refugee crisis; Greece and the Eurozone; social media to organise protests; fracking; gun control vs gun rights; and the Dakota Access pipeline.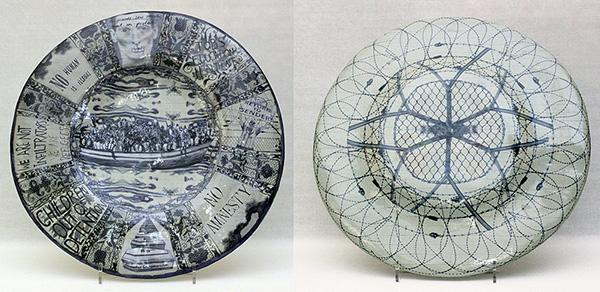 Border Control
2014 52cm x 52cm x 5cm
sculpture: wire, paper-mache and archival photo decoupage
Refugees can pay traffickers substantial amounts of money to escape troubles in their countries and for the promise of a safe place to live but first they must survive the journey. In 2013, a boat crammed with people left Libya and sank off the coast of Lampedusa, Italy killing over 360 men, women and children reportedly from Palestine and Syria. Sadly, this tragic event has repeated numerous times since then, highlighting the incredible risks people are continuing to take. The subject of migration is a hot topic in many areas of the world: Australia with its' controversial offshore detention centres, the ongoing problems in Calais, France with migrants trying to advance further into Europe and the recent amnesty granted by Obama to millions of so-called illegal immigrants. Border Control offers another subject which strongly divides opinion.

. Lastly, the Climate series highlights environmental topics such as global coral bleaching events; chronic pollution as a heavy cost for economic power in China; melting ice caps; the opposing views of climate change; El Niño; and the legacy of radiation from Japan's nuclear disaster in Fukushima.




Too Much, Too Little
59cm x 48cm x 5cm
sculpture: wire, paper-mache and archival photo decoupage

Too Much, Too Little is all about water, the lack of and an over abundance of water. Extreme weather phenomenon: drought, fire and floods. 2013 -2014 saw some of the worst floods in the UK whilst parts of Australia, Namibia and the US were ravaged by drought. Scientists argue for and against the idea that these extremes are a result of climate change.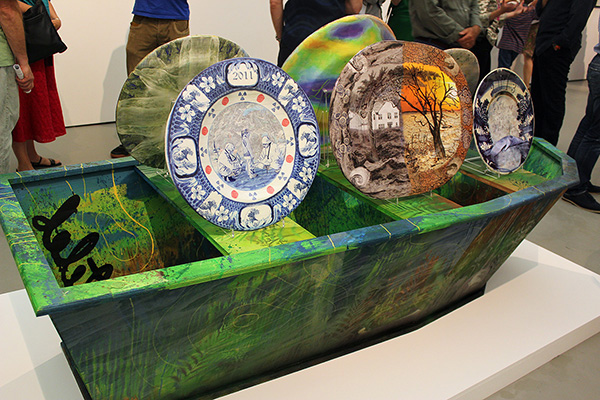 Climate - sculpture installation
MASLEN & MEHRA in collaboration with street artists Shuby and Delete
Towner Contemporary Art 2016
Sculptures in the Climate series: http://www.voidgallery.com/climate.htm
Further installation views http://www.voidgallery.com/cashclashclimateinstallationviews.htm

'For me, the most spectacular moments of thought were created by a collection of plates.
A nostalgic medium usually created in ceramics, but in this case recreated in paper­mache
in the hands of Maslen and Mehra, they are transformed into a sinister community
reflective tool addressing the political, cultural and moral decisions we make and
how they may be addressed as historical artefacts or moments in time. Almost mocking
the way in which we now live compared to our past, they highlight our obsession with
money, power and possessions.'
Ruth Page The Upcoming