VISUAL ART IN WESTERN AUSTRALIA

Emitting Luminousity

Luminousflux at Lawrence Wilson Art Gallery and Luminousnight, both at the University of WA campus, provide a thematic cornerstone for the Visual Arts Program at the 2013 Perth International Arts Festival.

Let there be light. In art that is. And there is. Right across the Visual Arts Program of this year's Perth International Arts Festival. It's a concept originating from the exhibition Luminousflux at Lawrence Wilson Art Gallery, and Luminousnight, an extravaganza of light across the University of WA campus to mark its centenary and the beginning of the Festival.
Professor Ted Snell, Director of the Cultural Precinct at the University of WA says almost every exhibition in the Festival has a light element to it. "It means there's much more continuity across the exhibition offerings," he says.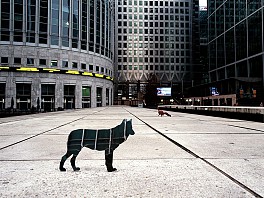 European Wolf Red Squirrel, Docklands, London, 2007, photograph in advertising lightbox from the London Underground, 150 x 190 x 20 cm by Maslen & Mehra. © Maslen & Mehra.

And he's right. At Kings Park, Scattered Light, by American artist Jim Campbell, consists of a 24 metre long suspended curtain of light bulbs, which morphs into a three-dimensional screen by night, projecting a hazy bustle of city life. At Central Institute of Technology, the theme of light continues through film in My Name is Raj, paying tribute to a remarkable 100 years of Bollywood and a key pioneer of the industry, Raj Kapoor. Grab your own piece of Bollywood fame by having your photo taken at the exhibition and inserted into iconic scenes from Kapoor's cinematic world. At John Curtin Gallery, Italian artist Grazia Toderi layers drawings, photographs and maps to create twinkling other-worldly cityscapes on film. Renowned British art collective Greyworld brings the Visual Arts Program to the city - the new Brookfield Place precinct to be exact - with Signs of Perth, moving signs letting us all know just how far it is to places, and planets, far from Perth. Fremantle Arts Centre features artists whose obsession for sport has spilled over into their art practice in Inside Running: The Sport of Art; and the Perth Institute of Contemporary Art partners with the Festival in commissioning new work from Brisbane artist Ross Manning, marking his first major solo show in a public gallery. Manning was most recently a participant in the 2012 New Media Awards at the Gallery of Modern Art in Brisbane. Luminousflux at Lawrence Wilson Art Gallery partners local artists with international. Snell says it's part of the policy of Lawrence Wilson Art Gallery to exhibit Western Australian artists in context with international world leaders in their field. The University has commissioned local artists Rebecca Baumann, Brendan Van Hek, Paul Caporn and Tom Muller to create new light works for the show. Their work exhibits alongside light box works by London-based Maslen & Mehra. Originally from Perth, Tim Maslen trained at Curtin University, exhibiting locally with a solo at Holmes á Court Gallery in 2003, and in a group show at PICA in 2008.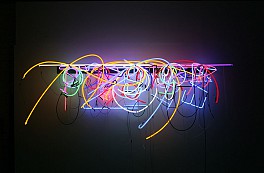 Colour Composition # 3, 2013, found neon, metal hooks, dimensions variable (work in progress) by
Brendan Van Hek.

Additional works by international artists Bill Culbert, Jim Campbell and Dan Flavin, widely recognised for their light-based works, are drawn from the Kerry Stokes Collection. Bill Culbert, representing New Zealand at the 55th Venice Biennale from June to November this year, is featured with Hayman, 2009, an incongruous meeting of neon and an old suitcase.
American Jim Campbell appears several times across the Festival. In addition to his major work at Kings Park, first shown in Madison Square in 2010, the smaller Motion and Rest #4, 2002 appears in Luminousflux. Trained in electrical engineering and mathematics, Campbell has developed his own electronics, a technology also used in collaboration with Paris-based artist Benjamin Bergery in a new light-based commission for the 400-year-old a capella tour de force by Carlo Gesualdo, Tenebrae et Lux (Darkness and Light) at Winthrop Hall. The commission replaces the traditional extinguishing of candles throughout the performance.
Untitled (For you Leo in long respect and affection) 2, 1977 by late New Yorker Dan Flavin (1933-96) adds historical context to the exhibition. Snell says Flavin is pretty much the father of neon works. "It was quite audacious at the time to create works just using neon tubes, which were very new in terms of domestic and industrial lighting. To all of a sudden take it out of the context of the everyday and make it an artwork was really quite shocking. Today it's still fresh and amazing." The work will be displayed in a corner of the gallery, a concept Flavin made use of, creating the optical illusion of corners disappearing.
The Visual Arts Program infiltrates the Perth Writers Festival with Words, one of two works in the Festival by British collective, Greyworld. Simply book a time to pick up a special light box from Lawrence Wilson Art Gallery, and choose a word to speak into the box which then glows. Enter the Sunken Gardens adjacent to the Gallery and find other words left to linger in the unique environment, and tip out your own from the box for others to discover. It's the impossible made possible by blending art, technology and lateral thinking.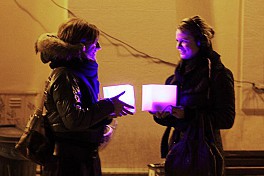 The interactive work Words by British collective Greyworld is set to be a highlight of the Perth Writers Festival.

It's all a bit of a light fest really. Ask Snell how the concept developed and he says he was first struck by the idea of how light bulbs changed everything in 1875. "Suddenly everyone could have light in their homes, so light became the medium of the twentieth century. I thought it would be nice to have artworks which were quintessentially about light, and couldn't exist without it. It's not something people would immediately associate with art so what we want to do is expand that horizon. It's really about taking that everyday experience and turning it on its head so it becomes something special and magical. That was the idea behind the exhibition in the first place so I hope that's what people will get from it," he says.
Kicking off the festivities is Luminousnight on 8 February when the campus comes alive with projections onto its buildings. Lawrence Wilson Art Gallery will remain open from 6 - 10pm to allow visitors to participate in Greyworld's Words and view the Luminousflux exhibition.
Luminousflux is on show at Lawrence Wilson Art Gallery from 8 February - 20 April. Visitwww.lwgallery.uwa.edu.au to view evening opening times during the Festival. Words is available from 8 February - 2 March. Tenebrae et Lux with Benjamin Bergery and the St George Cathedral Consort is at Winthrop Hall from 10 - 18 February. Visit www.perthfestival.com.au for a full list of dates of exhibitions.