2 NOV - 1 DEC 2013
LAUNCH NIGHT: FRI 1 NOV, 6 - 9pm
PHOENIX BRIGHTON, 14 Waterloo Place, Brighton, UK
Night Projection will be on display in the windows of the Phoenix Brighton visible from the road outside throughout November.
We are please to announce the 17 selected artists are:
Lulu Allison Peter Ainsworth Beth Atkinson Lydia Goldblatt Nigel Grimmer Amra Hani Chloe Lelliott Jan Lemitz Maslen & Mehra Sean Padriac James Parkin Arnold Reinisch Martin Seeds Nikolas Ventourakis Luisa Whitton Marc Wilson Tamara & Yoshi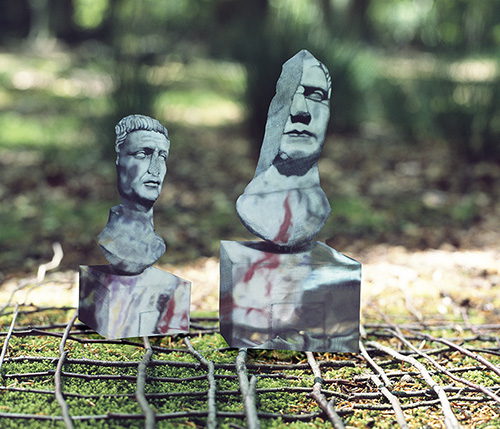 Impermanent Collection (Roman Emperor Claudius and probably Julius Caesar)
2012
Durst Lambda dibond and laminated acrylic 120 x 140cm
Temporary intervention with mirrored sculpture and drawing, shot with Mamiya 6 x 7 film camera

MASLEN & MEHRA are known for pushing the boundaries of photography whilst still utilising analogue techniques. The collaborative duo spent four years researching and developing the series Impermanent Collection based on objects in museums all over the world including the Metropolitan Museum New York, Asian Museum of Civilization Singapore, Archaeological Museum Istanbul, V & A Museum London and more.

See more here:
http://www.slashseconds.co.uk/maslen-and-mehra
/seconds is an online publishing project established in 2004 supported by an international editorial and advisory board of academics, artists and curators.
Executive Editor: Peter Lewis. Editorial Board:Maurizio Bortolotti, Tony Chakar, Clementine Deliss, Wolfgang Fetz, Simon Ford, Andrew Hunt, Colm Lally, David Mollin, Annie Ratti, Peter Suchin, Sarah Wilson.