Maslen & Mehra's sculpture installation, Cash, is comprised of a series of papier-mâché plates based on ceramics housed in museum collections around the world. In order to research ceramics, the artists have made multiple visits to the Victoria & Albert and British Museums, London; Mares Museum, Barcelona; the Metropolitan Museum, New York; the Archaeological Museum and the Turkish and Islamic Art Museum, Istanbul; the Museo Internazionale delle Ceramiche in Faenza, Italy and the Asian Museum of Civilization in Singapore. The narratives of each original plate are altered to highlight a variety of ideas tied to a trilogy of themes, Cash, Clash & Climate.
For the installation exhibited at the Towner, Maslen & Mehra focus on the theme, Cash. The sculptures are exhibited on a bespoke, furniture-like structure. Local street artists, Shuby and Delete, have been invited to add their work to the surface of the 'furniture' in response to the theme. The layered effect is created by the two artists' differing approaches, imagery, ideas and methodologies.
Cash: For this collection, the works explore bailouts, credit culture, money made from war, housing bubbles, the commodification of food staples and the almost religious status that money has reached in our times.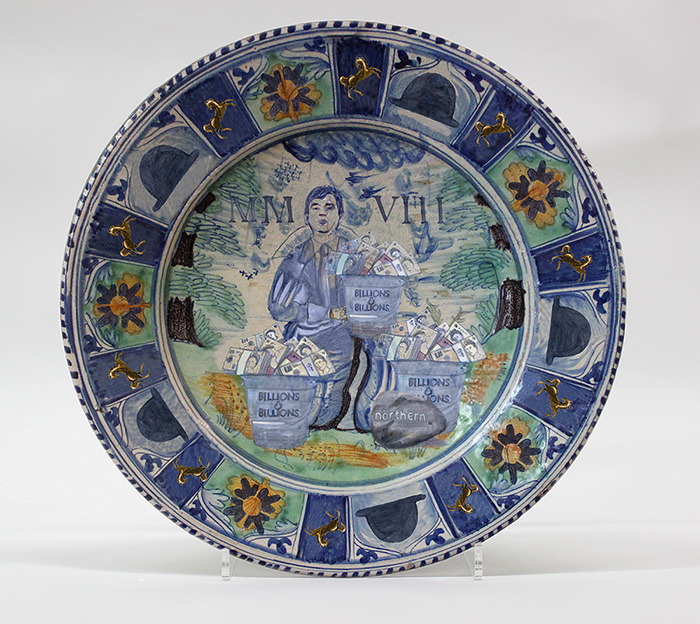 Rescue focuses on bank bailouts in the UK. In 2008 a bank rescue package of over £500 billion was made in response to the global financial crisis and worries about the stability of British banks. British banks that were rescued include the Royal Bank of Scotland, Lloyds and Bradford & Bingley. Their logos are illustrated on the rim of the plate.